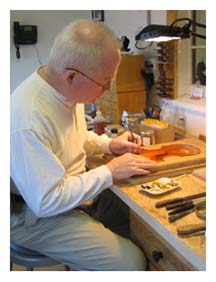 Dennis McCarten has been making and repairing instruments for nearly two decades. This was a natural evolution from his lifelong love of wood and woodworking and his immersion in Irish traditional music.
Mr. McCarten is a graduate of the Violin Making and Repair program of the North Bennet Street School in Boston. This is one of only a handful of full-time violin making programs in the United States. In his training Mr. McCarten worked in an apprentice environment for three years under the close supervision of master violin makers from Europe. Under their watchful guidance, he also received extensive training in the most challenging techniques of instrument repair and restoration.
Since 2006, he has operated his own full-service stringed instrument shop in Pawtucket, Rhode Island where he builds, rents, repairs and services violins, violas and cellos. His instrument set up and restoration skills are widely sought after.