Those who have paid attention know that the walk we are on was first outlined in the 1970's by Arthur Wainwright. He was a legendary fells walker who has attained a somewhat mythical, almost deific status. It now turns out that Mike and I are removed from the great Wainwright by a single degree of separation. He was entertained in this very guest house by our own host Margaret during a visit in the late 1990's.
___________________
There have been rumblings that the photographic offerings of this journal have lacked what we might call "imagination". "You guys look great [Not!!] but we've seen enough of you. Show us some food." I do have a few reason that this has not been a scintillating photographic journey across England. For one, internet connectivity has been sketchy and loading more than one or possibly two photos at a time has been a challenge. Second, I was lobbied by my walking partner to post the selfie we took at the end of our brush with death at Grisdale Tarn to prove to the world and to ourselves that we were still alive. In addition, neither of us is a great photographer so the pickings have been slim. Finally, while the food has been nutritious, it has not been particularly photogenic.
But I do have this picture for you. It demonstrates both the traditionalism of England and the hospitality that we have experienced. It is the tea service laid out for us by Margaret when we checked into Brookfield House yesterday. A nod to tradition is that the service items were all china and cloth – no single use plastic or paper to be seen. Hospitality is shown by the hot, buttered, gluten free tea cakes that came with the tea (and Mike's coffee).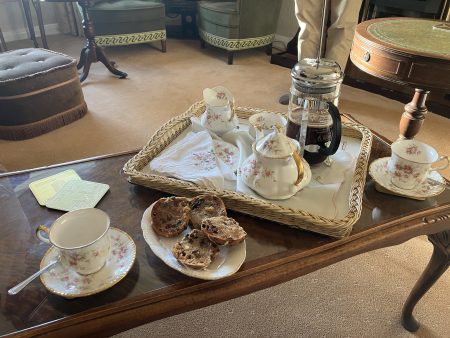 And here is a picture of the history that the region has to offer. It is the Shap Abbey that I mentioned in last evening's post. An inspiring place.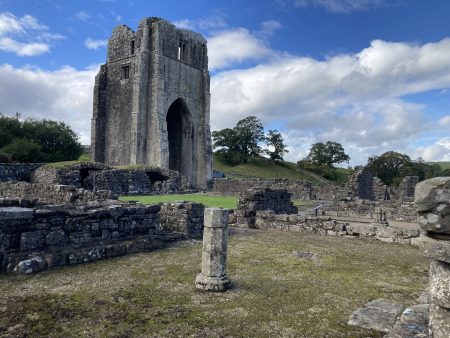 Margaret is still mourning the death of her majesty the Queen.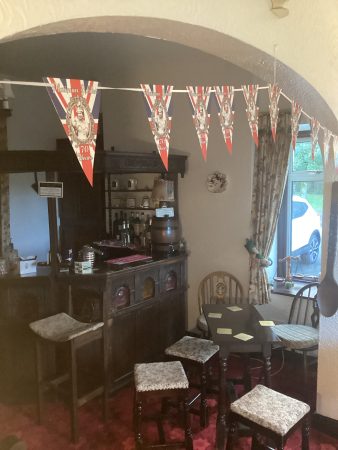 There is a nice photo of us with Hamish and Amanda at dinner last evening but I'll leave that one out.