I inadvertently omitted references to the food we consumed this first day of walking. As always in these parts, the day started with a ridiculously fatty full English breakfast. This is a two-edged sword because it fills the gullet amply but metabolizing this kind and quantity of food  robs energy from the body as it sets out for the day. But no complaints. It is tasty.
On the trail, we stopped in the shade of a wall at the half way point to consume the ham and cheese sandwiches (on gluten free bread) prepared for us by Bruna at The George Hotel. This stop was accompanied by some comraderie from an unexpected source. A young man nicknamed Gaz sat in a van-bus waiting for a troop of 15 Coast-to-Coasters to offer the option to the meeker members of the group of an air conditioned ride into Kirkby Stephen. The unexpected part of this encounter was that Gaz gave me a bottle of chilled water to top off my severely reduced supply. I sorely need this on this hot day. I offered to pay him but he demurred telling me "Never pay for water or for sex." I'll have to remember that.
Dinner was had her at the Pennine Hotel. It was a so-so sirloin steak with chips. Satisfying if not either picturesque or memorable.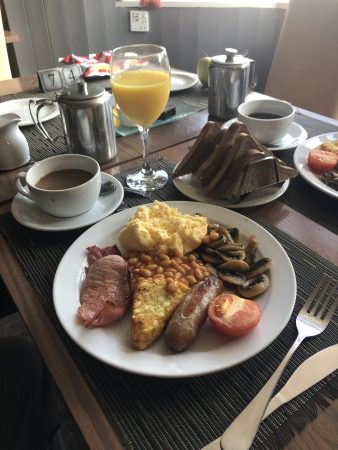 The English breakfast.