Today's was a mostly delightful walk through the Yorkshire Dales where most of our walking time was spent in the company of farm animals who are largely oblivious to the presence of human passers-by. The fact that sheep and cows spend so much time in the company of humans is a tribute to Britain's tradition of mandating that footpaths and bridleways should be available to all even if they pass through privately owned property. The bare requirements for using these rights of way are that you secure gates behind you as you pass and that all dogs must be on leads. Much of the mileage of the Coast-to-Coast is strung together with a network of these private/public paths.
The principal challenge on this Friday was the unrelenting heat of the sun on a mostly windless day. All clothing and hats were soaked through with perspiration by day's end but the heat was most notably felt in the feet. Getting to this paved city of Richmond at a time when both of us wanted nothing more than to soak our feet was a challenge. Once here, we had to navigate unfamiliar and crooked streets that were teeming with late afternoon traffic to get to guest house at 66 Frenchgate. But once here we showered and dressed and then sauntered out with our friend Sally from Juneau to enjoy a wonderful Italian meal. Now at 9PM, I'm in the lounge of the guest house writing to you.
If I had to identify one highlight of today's walk, it would have to be our visit to the unexpected oasis that is St. Edmund's Anglican Church in the village of Marske. As we descended the narrow road to that place, we were overtaken by a freckled and road-worn 70 year old Yorkshire-woman named Jean who is wild camping the Coast-to-Coast alone for the third or fourth time. She was still walking and talking with us when we came to the gate that led up narrow steps to the St. Edmund's church yard. She urged us to join her. Mike and I looked at each other, shrugged and figured "Why not. Just grab some water and go." The sign on the gate welcomed travelers to stop in for refreshments but to please remember that we were about to enter consecrated church grounds and asking us to please respect that fact.
Passing by the graves of long-departed parishioners  we arrived at the sheltered portico outside the doors to the church building.  There we encountered a throng of 10 or 12 hikers who had all shed their packs and were sitting on every available outdoor surface. Passing this gauntlet and entering the cool and silent recesses of the chapel we were treated to the sight of a long table loaded with candy bars, San Pelligrino fruit flavored seltzers, juice boxes and chilled bottled water. There was even a section laid out with blister patches and bandaids. A price list asked that payment be deposited in the "Donations" box by the door.
Mike and I took advantage of this bounty to fill water bottles and to imbibe the refreshingly cool drinks but we also took our sweet time doing it to assure that the horde of American hikers who had been there when we arrived got a head start so we wouldn't have to encounter them again. Enough said about that!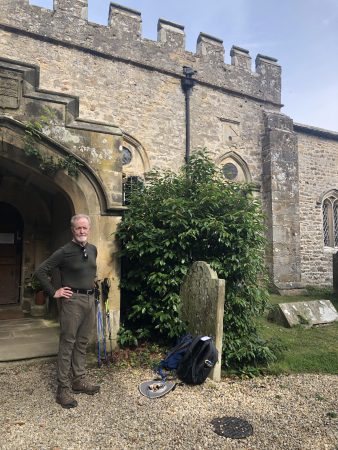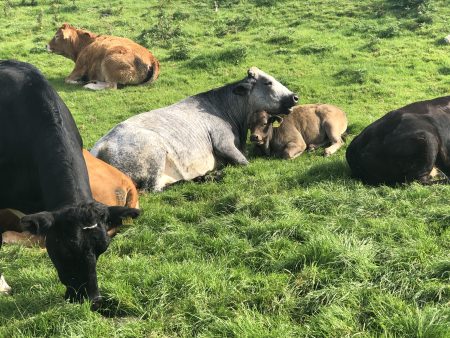 Mama with new calf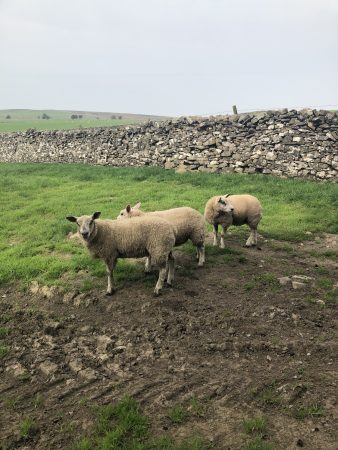 Tom, Dick and Harry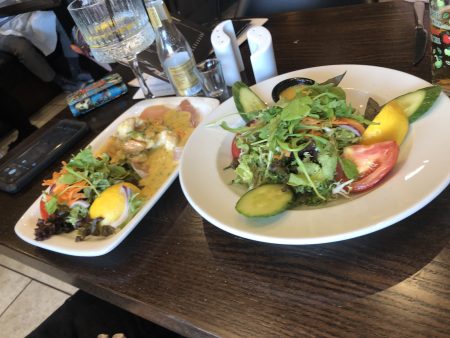 A scrumptious Italian meal!